The Cook's Guide and Housekeeper's & Butler's Assistant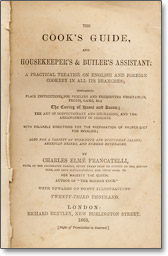 Welcome to the Cook's Guide a site brimming with historical recipes and household management wisdom imparted by a celebrity chef of his time Charles Elme Francatelli.
Inside the online version of Francatelli's 1861 best seller you'll find forty chapters of genuine Victorian era recipes written in the words of a famous Victorian chef, and covering everything from the Stock Pot to Entrees, Pastries to Libations.
In his book Francatelli includes a series of Bills of Fare for every month of the year in English and French.
The menu produced below is for a traditional christmas dinner served in Francatelli's Victorian London
Christmas Dinner
Turtle soup.
---
2 Fishes
Turbot à la Vatel.
Fillet of soles à la Tartare.
---
3 Removes.
Roast turkey Perigueux sauce.
Braized ham à la jardiniere.
Spiced round of beef.
---
4 Entrees.
Marrow patties.
Salmis of pheasants à la financière.
Sweetbreads à la St. Cloud.
Mutton cutlets a la vicom.
---
SECOND COURSE.
2 Roasts
Woodcocks.
Grouse.
---
2 Removes.
Mince pies.
Plum pudding.
---
6 Entremets.
Broccoli with Parmesan cheese.
Salad à la Rachel.
Punch jelly.
Italian cream.
Croûtes à l'ananas.
Meringue à la Parisienne.
For information on wood burning ovens, outdoor stoves and pizza ovens follow this link Pizza Oven
For more information on cookery books in general and healthy eating follow this link Healthy Eating Books For great book prices and information on a variety of other popular books click here bargain books.