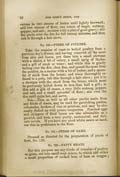 Take the remains of roast or boiled poultry from a previous day's dinner, and having removed all the meat from skin and bones, put these into a small stewpan with a shalot, a bit of celery, a small sprig of thyme, and a gill of stock or water; and while this is gently boiling over the fire, chop fine, and pound the meat from the poultry, in a mortar with a bit of butter, and a spoonful of stock from the bones; and when thoroughly reduced to a pulp, rub this through a hair sieve; put it in a stewpan with the stock from the bones, which must be previously boiled down to less than half a gill; to this add a gill of cream, a very little nutmeg, pepper, and salt, and a small spoonful of flour; stir over the fire until quite hot, and serve.
Note.—This, as well as all other purees made from any kinds of meats, may be used for garnishing patties, croustades, borders of rice or potatoes, and may be also neatly dished tip with potato croquettes.
Poached eggs and strippets of fried bacon are also admissible as a garnish, and form a very pretty, economical, and delicate entrée.
If you have any good white sauce at hand, use this in preference to the flour.