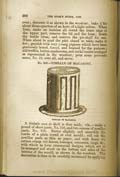 A timbale case or shell is thus made: viz.,—make a pound of short-paste, No. 756, and two ounces of nouilles paste, No. 759. Butter slightly and smoothly the inside of a plain round or oval mould; roll out the nouilles paste as thin as paper, and with fancy tin cutters stamp out leaves, lozenges, crescents, rings, &c, with which to form ornamental designs, which are to be arranged and stuck on the bottom and sides of the interior of the mould, as shown in the woodcut.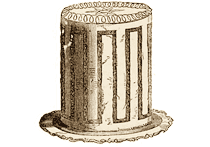 Timbale of Macaroni
The decoration is then to be carefully moistened by applying the tip of a brush dipped in water to it, and is afterwards to be lined throughout with some of the short-paste rolled out for the purpose, leaving the paste rising an inch above the edge of the mould.
Fill the inside with bran, or with flour mixed with two ounces of chopped suet; wet the edge, place a circular piece of rolled-out paste on the timbale; press both edges together with finger and thumb; twist the upper ridge of paste inwardly with a twirl of the fingers and thumb; make a small hole in the centre for ventilation; bake the timbale for about three-quarters of an hour, and when done, empty it with care; brush it out clean, and fill it with a Milanese ragout, No. 126; turn it out on its dish, glaze it over with thin light-coloured glaze; pour some white sauce round the base, and serve.