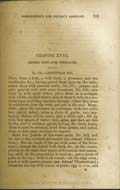 First, bone a fowl, a wild duck, a pheasant, and two woodcocks, &c.; having spread them open on the table, season them with aromatic herbs, No. 671; pepper and salt; garnish each with some forcemeat, No. 188; sew them up with small twine; place them on a sautapan with a little clarified butter, and set them to bake in a moderate heat, until they are done through; when they must be withdrawn from the oven, and put in the cool. Mean while, place the carcasses in a stewpan, with two calf's feet, carrot, celery, onion, a clove of garlic, two bay-leaves, thyme, cloves, mace, and a little salt; fill up with four quarts of water; boil, skim, and then set this by the side to continue gently boiling for three hours, when it must be strained, freed from grease, and boiled down to thin glaze, and kept in reserve.
Make four pounds of hot-water paste, No. 949, and use this to line a, raised pie-mould (see Adams' Illustrations); line the inside of the pie with some of the forcemeat; arrange the baked fowl, duck, &c, in the centre, placing at the same time layers of forcemeat and seasoning, until all the preparation is used up; put a cover of paste on the top; weld it all round; cut the edge even; pinch it with pastry-pincers (see Adams' Illustrations); ornament the top with leaves of paste; egg it over, and bake the pie for about two hours and a half; and when it comes out of the oven, pour in the game-glaze through a funnel; put it in the larder to get cold; and previously to sending it to table, remove the lid, garnish the top with aspic jelly; place the pie on a napkin, in its dish, and ornament the base with a border of fresh-picked parsley.
Note.—the addition of truffles would be an improvement.