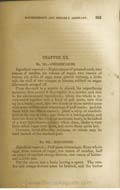 Ingredients required:—Puff-paste trimmings, three whole eggs, three ounces of sugar, one ounce of ratafias, half an ounce of candied orange-flowers, one ounce of butter and a little salt.
Put the above into a basin having a spout. The ratafias and orange-flowers must be bruised, and the butter merely melted. Work the whole well together with a wooden spoon until the batter presents the appearance of a rich creamy-looking substance; it must then be instantly poured into two dozen small deep tartlets lined with puff-paste trimmings; shake a rather thick coating of sifted sugar over the mirlitons, and when it has nearly melted on their surface, put them in the oven (at very moderate heat), and bake them of a light-fawn colour. When the mirlitons are done, the centre should rise out from the tartlet to the height of about half an inch, resembling the crown of a boy's cap.
These cakes may also be flavoured with chocolate grated previously to its being added to the preparation, or with pistachios or almonds; both of these must be pounded first. They may also be flavoured with different essences. Previously to pouring the batter into the tartlets, a spoonful of apricot or pine-apple jam may be placed in them.