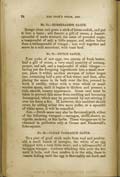 Four yolks of raw eggs, two ounces of fresh butter, half a gill of cream, a very small quantity of nutmeg, pepper, and salt, and a teaspoonful of elder vinegar:- having put the foregoing ingredients into a small stewpan, place it within another stewpan of rather larger size, containing half a pint of hot water, and then, after placing the sauce in its bath over the fire, proceed to work it swiftly, either with a wire whisk or small wooden spoon, until it begins to thicken and present a rich, smooth, creamy appearance.
Great care must be taken to prevent this sauce from curdling and becoming decomposed, which may be prevented by not stirring it over too fierce a fire.
If, however, this accident should occur, by adding either two more yolks, or a spoonful of white sauce, it will be remedied.
Note. Dutch sauce may also be flavoured with either of the following vinegars :-tarragon, chilli, shalot, ravigotte, anchovy, or fine herbs. These vinegars are to be obtained in perfection only at Crosse and. Blackwell's, Soho-square.