Chef to nobility and a cook for the common man
Although little is written about him today Charles Elme Francatelli (1805-1876) was one of the culinary celebrities of his time. An Englishman of Italian extraction who traveled to France to study under the legendary Antonin Carême the founder of French haute cuisine.
Revered for his blending of the best of Italian and French cuisine, Francatelli was regarded as a leading chef in Victorian London and spent most of his career in Britain directing the kitchens of several aristocrats and nobleman.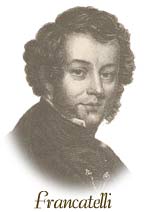 In particular his early career saw him in the employ of the Earl of Chesterfield, Earl of Dudley and Lord Kinnaird at Rossie Priory in Perthshire.
In 1840 he was back in London managing the plush and fashionable Crockford's, a successful private club and gaming house on the west side of St James's street.
Despite only being at Crockford's for a brief period it was to prove a successful move. Spotted by a steward of the royal household Francatelli was appointed maitre-d'hotel and chief cook in ordinary to the Queen.
Although his royal appointment was short it was undoubtedly a highlight in his career. As to why he left is not clear. Some people speculate that it may have been Queen Victoria's lack of enthusiasm for French cuisine or maybe Prince Albert's tendency toward less extravagant culinary preparations. Either way in 1842 Francatelli left his royal duties after serving just one year.
On leaving his royal post Francatelli undertook the culinary management of the Coventry House Club 106 Piccadilly (this became the St James's club in 1869, a gentlemans club that occupied the premises for over 100 years).
In 1854 he was appointed chef de cuisine at the Reform Club whose kitchens designed by its first chef Alexis Soyer were described as the greatest in London. Francatelli remained there for seven years.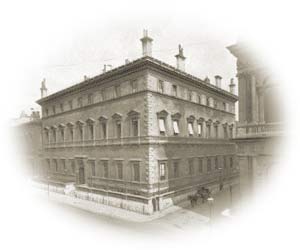 The Reform Club
Between 1863 and 1870 he managed the St. James's Hotel in Berkeley Street, and then joined the Freemasons' Tavern in Great Queen Street, a post he held until just before his death in 1876.
Although Francatelli had the experience, charm and flourish necessary to please the highest of Royalty, his greatest love was the simple act of cooking. His first book, entitled The Modern Cook, was published in 1846 and was so popular that it went through an amazing twenty nine editions.
Even though he was able to dress the costliest and elaborate of banquets and despite working for some of the most distinguished of British aristocracy and gentry, Francatelli was known as a culinary economist.
Often quoted, he once remarked that "he could feed every day a thousand families on the food that was wasted in London". To this end in 1852 he issued A Plain Cookery Book for the Working Classes which contained information of practical value to the working classes. This included economical delights such as cow-heel broth, bubble and squeak , sheep's pluck and a pudding made of small birds.
This was succeeded in 1861 by The Cook's Guide and Housekeeper's & Butler's Assistant, which became a book of reference for any well-managed household. Described as a practical treatise on English and foreign cookery.
As well as over a thousand recipes of the day the book contains instructions for the service of wines, directions for the preparation of diets for invalids, epicurean salads, medicinal drinks, and American drinks and beverages.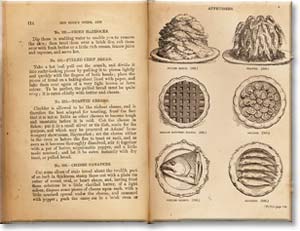 The Cook's Guide (1861)
His fourth cookery book was the Royal English and Foreign Confectionery Book, in which he discussed the art of confectionary. Published in 1862, this was to be his last published work. Francatelli died at Eastbourne on 10 Aug. 1876 as one of the fortunate people who lived their lives doing what they loved best.
Sources Chef to Queen Victoria: the recipes of Charles Elme Francatelli, ed. A. M. Currah (1973) • M. Berriedale-Johnson, The Victorian Cookbook (1989) • DNB • L. Jackson, The Victorian Dictionary, 29 Sept 2005, <http://www.victorianlondon.org/>