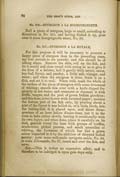 For this purpose it will be necessary to procure a larger piece of sturgeon than in the preceding cases, say four pounds to six pounds; and this should be of oblong shape.
Remove the skin, roll up the fish, and tie it neatly and close round with string so as to give it the form of a bolster, boil it gently with carrot, onion, bay-leaf, thyme, and parsley, a little salt, vinegar, and water; and when the sturgeon is done, drain it on a dish, and set it to cool.
When cold, mask the whole of the surface of the piece of sturgeon with some forcemeat of whiting; smooth this over with a knife dipped frequently in hot water, and ornament or decorate it with truffle, tongue, and the peel of green Indian gherkins; and this done, cover it over with buttered paper; moisten the bottom part of the fish only, by pouring about a pint of the liquor it was boiled in, or a little broth, into the baking-dish it is placed upon, and about three-quarters of an hour before dinner-time, put it in the oven to bake rather slowly, basting it occasionally with its own liquor, and when done, place it carefully on its dish, garnish round the base with groups of truffles, mushrooms, picked prawns, and small quenelles of whiting, the forcemeat of which has had a green colour imparted to it by the addition of chopped boiled parsley; pour some well-made ravigotte sauce, No. 34, or some Allemande, No. 17, round and over the fish, and serve.
Note.—This is rather an expensive affair, and is therefore to be indulged in upon gala days only.