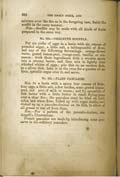 Mix in a basin with a spoon four ounces of flour, four eggs, a little salt, a few ratifias, some grated lemon-peel, and pint of milk or cream; and fry spoonfuls of this batter with a little butter in small frying-pans over a clear fire; the pancakes must be fried on both sides, and when done, folded up with sugar inside, and dished up on a pancake-drainer on its dish, to allow of all grease to run off from them.
Note.—For a pattern of the pancake-drainer, see Angell's Illustrations.
French pancakes are made by introducing some preserve in the ordinary pancakes.